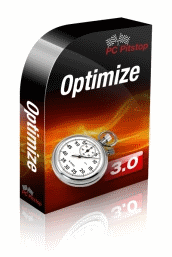 WindowsTalk has a new affiliate: PC Pitstop, maker of Optimize, Driver Alert, Erase, Disk MD and Exterminate. Optimize will help to speed up your PC and maximize it's performance. If your PC has been feeling sluggish, you may want to try Optimize.
PC Pitstop has provided me with one free licence for a year's subscription to Optimize 3.0.
All you have to do is download the free trial by clicking the banner above, install the program and let it do a scan. Take a screen capture of the results and post it here in a comment. (If you do not know how to do this, please ask and I will provide directions).
The winner will be chosen at random by Randomizer.org. Contest will run until January 11th, 2010.
The contest is now over, but you can still use the link above to get a free trial of Optimize. If you like it, please purchase a copy through WindowsTalk. This helps to offset my hosting costs, etc.