More and people are turning to USB's as a medium for their data storage. Unlike many of the traditional external hard drives, these tiny devices allow user's information to be  easily transported taking up less space than your average key fob. These ubiquitous pieces of technology are generally competitively priced and have revolutionised the way we access our electronic information. Effectively relegating CD ROMs, we have come to rely on them in business as well as leisure. Below we take a look at eight of the best we can find.
San Disk Cruzer Titanium
SanDisk is one of the most prominent names in this medium and their Cruzer models come with their trademark side slide which negates the need for a cap. This is a 8 GB stick which is very reliable and comes with Skype software preinstalled. It also has a casing which is liquid metal titanium coated. It's reasonably priced at £19.
Lexar Lightning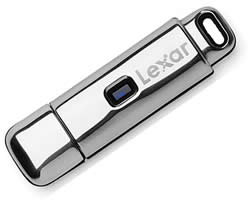 image source
This is a simple device in design and content. Whilst it might not have as many technical gizmos, it is certainly something of beauty with its sleek stainless steel case and ice blue LED light. The manufacturers, Lexar will provide a free engraving service when customers order through their website. However it will cost you $69 for the 16GB or $109 if you go for the 32.

Ironkey Personal S200
Ok, this one is seriously heavy duty. If you have data which you need to guard with your life, then go for this military grade little gem. It will hide traces of surfing on any host computer. In addition to this it will wipe all the data if more than ten unauthorised attempts are made to access it. It looks great and performs great but you might need a military budget to buy it. Amazon are selling them for £154.
Corsair Flash Survivor GTR
This USB is one of the toughest devices you could possible get. Corsair put their product through various tests which included dropping in a pool, smashing with a hammer and running over with a car. It survived them all. Practically indestructible it even comes with a 10 year warranty.
Corsair Flash Voyager
This might not be the toughest but it certainly makes up for itself in other ways. Size is the crucial factor here as the Voyager has a capacity of up 128Gb. This one also has a faster file transfer than its harder cousin.
Mnemosyne
If you want impressive well this is bound to evoke admiration over the most negative of people out there. It's expensive, gratuitous and quite possibly over the top but one cannot deny its beauty. Made by 'Solid Alliance' it boasts a 16 GB capacity as well as a $10685 price tag.
Emerald Ruby
To end our little voyage into the world of flash drives we present a USB which makes the Mi Stor above look like a grubby Christmas cracker reject on December 26th. This stunning example of all that is ostentatious is designed and manufactured by La Maison Shawish. It comes with a 32 GB capacity as well as numerous diamond, ruby and emerald studs. Yours for $37000!
Author: Jonny D loves gadgets and technology, he works for Ladbrokes Games Online and put together this flash list; who would have thought you could hide information in Emerald earings, reminds us of a Bond movie!