Something that is popular in my area any time of year (except perhaps, Winter) are 'yard sales' in which folks put all their unwanted articles like clothing, child's toys and other household items for sale on a Saturday morning. Even the local radio station gets in on the act by announcing where the sales will be for the coming Saturday. It is a popular pastime here in this small community! You may know them as Garage sales or Tag sales in your part of the world. Whatever their name, their sole purpose is to get rid of one's junk and make some money in the process. Sometimes the money goes to a charity, but often it goes right into the person's pocket.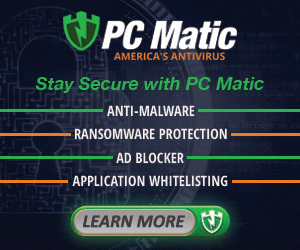 Like a closet, your basement or your whole house, clutter builds up and, when Spring rolls around, a good cleaning is in order.
What about your computer (desktop and/or laptop) though? Does it not require cleaning to keep it running smoothly and error free? It sure does! Temporary Internet files, program installation files and redundant registry entries take up a lot of space and can slow down your Windows PC.
Fortunately, there are some excellent tools on the market and the one I regularly use is PC Matic from PC Pitstop. Now, WindowsTalk has been affiliated with PC Pitstop for years. It is a very good relationship and one I am proud to talk about. In fact, the good folks there regularly reproduce a portion of WindowsTalk's content at their TechTalk site: http://techtalk.pcpitstop.com/author/windowstalk/
You can run a free scan of your computer with PC Matic by clicking Free Performance and Security Scan, Scan Now!