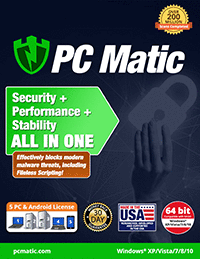 I have been a PC Matic user and affiliate for many years, and the product never fails to impress me with it's ease of use and comprehensiveness in examining all areas of your PC for fixes, updates, speed-ups and so on.  Now their flagship product is a serious contender in the security software arena with its inclusion of "Super Shield" which recently scored very high on the V100 RAP (reactive and proactive) test, which I recently posted about here. It really is "all you need" in a PC maintenance and security software bundle.
What is unique about PC Matic is its white list feature that allows trusted and virus-free applications to run on your PC. The latest version of PC Matic has Active Malware Protection and Nitro Download Accelerator (optional) as well .
PC Matic has the following features:
Drive Alert
Disk MD
OverDrive
Exterminate
Optimize'
Also, the software has DAT1 back-up including free 2GB online back-up and limitless local back-up.
Pros
Speed-up internet browsing
Faster downloading speed
PC runs like a new one
Keep your data safe and secured
Gives absolute PC protection against threats and viruses
Offers maximum security, notable stability, and great speed
Offers money-back guarantee within 30 days
Blocks annoying Trojan Horses, Spyware, Worms, Bots, Rootkits, Adware, Keyloggers and other viruses'
Helpful for average users and professional users
Easy to install and simple to use
Affordable and valuable
Made in the USA
Cons
It works quite slowly on the first time of the installation but subsequent scans are faster.
Customer Reviews
PC Matic has gained countless positive feedback on its great PC protection features. One PC Matic user commended the outstanding performance of this innovative security software in protecting against Adware. Also, users of the software were amazed with its detailed reporting on the maintenance and security status of their computers. Other users who tested the software were satisfied  with PC Matic's great performance in detecting all types of temporary files and junk files.
Conclusion
Threats and viruses could really affect your internet browsing and overall PC performance. PC Matic also has the capability in resolving your computer's hard drive fragmentation. It regularly updates your computer's drivers. Most importantly, all changes are reversible. Nowadays, it's seldom that you can find an impressive software like PC Matic.
PC Matic is developed and supported in the United States by PC Pitstop LLC. PC Pitstop was founded in November 1999, and made its reputation as a very popular web site for diagnosing common computer problems in performance and security.